Christmas Gift Subscriptions for Kids
Give your child a brilliant gift that brings wonders, discoveries and amazement – all year long!  
Eco Kids Planet is an award-winning, adverts free, monthly magazine for kids ages 7-11 who love nature, animals and science. We help you raise a child who cherishes our planet and its incredible creatures. A perfect gift that keeps on giving!
How to order
Select Subscription Type below.
Select EARLY BIRD CHRISTMAS SPECIAL in the Start Issue dropbox.
Gift Subscriptions
from £21 for six months
Free Gift with Annual Subscription
---
One-off payment for annual or 6-month subscription
Worldwide delivery
Standard Subscriptions
from £2.85 per month
Best Value: Save up to 22%
---
Recurring annual, six-month or quarterly payments
Worldwide delivery
Early Bird Christmas Offer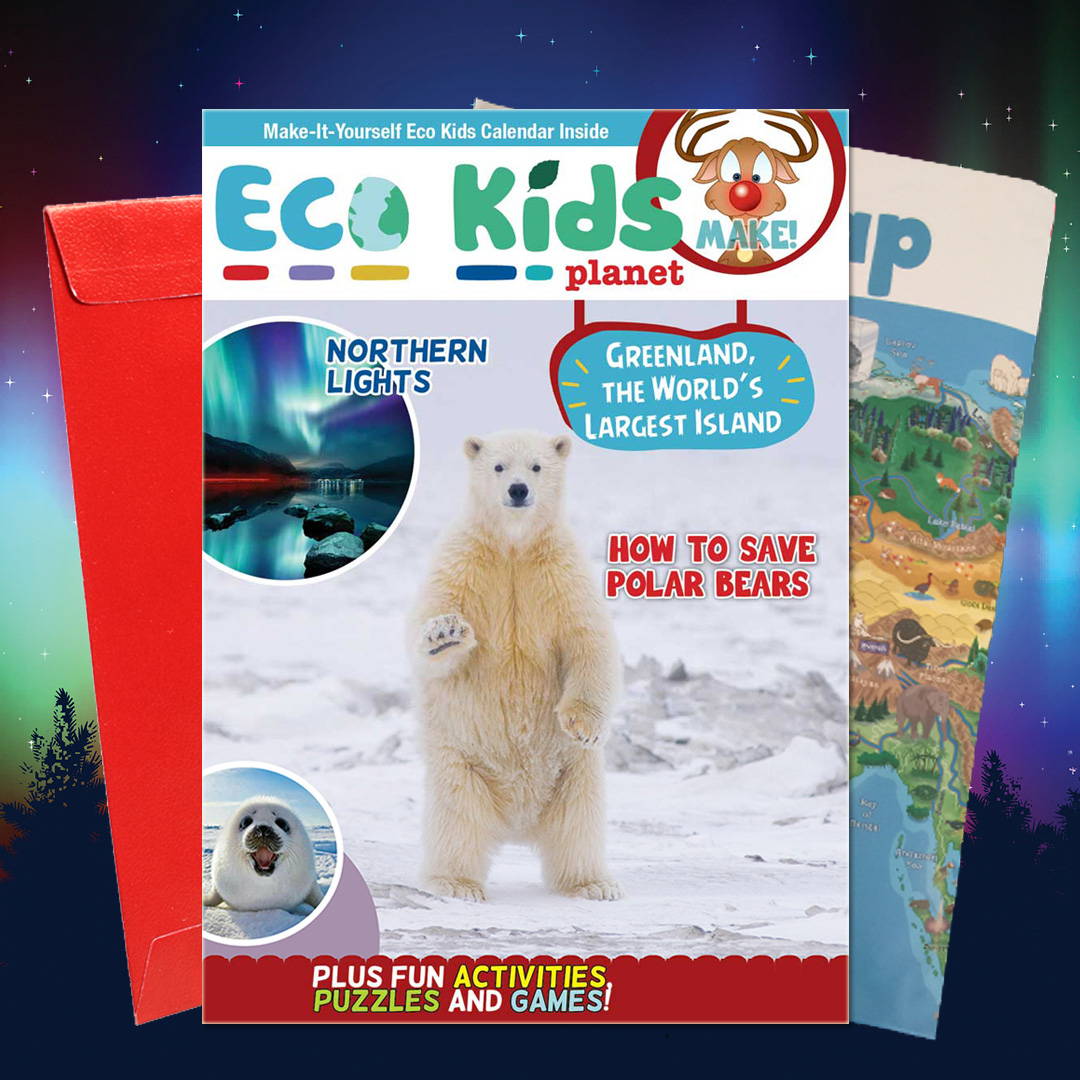 Subscribe TODAY and receive ALL THIS before Christmas!
December Issue: Greenland, Land of Melting Ice
Free Gift with ANNUAL subscription CHILDREN'S WORLD MAP (RRP £6.99) – A large illustrated children's world map, showing continent names, biomes, main rivers, lakes, mountain ranges and peaks, islands and animals. Size: 1000 x 707mm 
Festive Packaging Christmas orders are shipped in a red gusset envelope, with a stamp OPEN ON 25 DEC.
Personalised Gift Card (A6-size)
Your magazine is a breath of fresh air for little minds who want to explore the world around them, and it's put together so beautifully, its arrival through the letter box is of great excitement. My daughter has a wonderful time enlightening us with newly discovered facts about all her favourite things ... perfect!

Karen, Happy Mummy!